ELECTRIC CITY BIKE, THE BEST FOR YOUR COMMUTES
BE15 is the women's electric bike that makes getting around the city simple, fast, and fun. Equipped as standard with mudguards, parcel rack and lighting system, it is ready to hit the road. The hub motor on the rear wheel allows you to easily reach your daily destinations.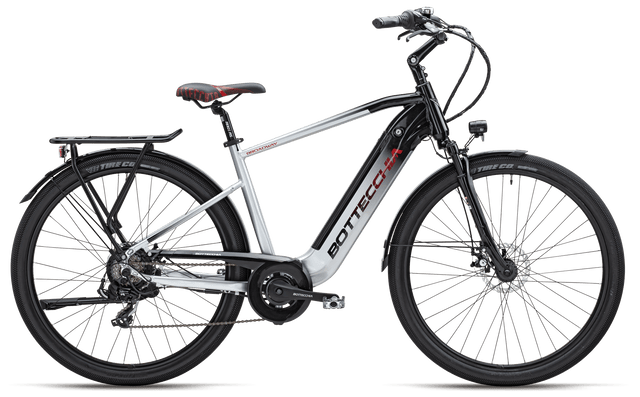 Setup
E-CITY 28" Shimano TY500 7s 504wh
FRAME: E-CITY 28" Alu Man Integrated battery
FORK: Zoom CH141d Alu disk
DERAILLEUR: Shimano TY500 7s
MOTOR: On rear wheel 36V 250W
BATTERY: Green Way Li-Ion 36V 468Wh
CASSETTE: Shimano TZ500 14/28 7s
BRAKES: Mechanic Disk ProMax/Tektro
WHEELS: Alu 700 C double chamber
TIRES: Veetireco 28x2.30 Speedster
WEIGHT: 25,000 kg
Sizes

50
COMFORT ACCESSORIES
The standard setup with mudguards, rear parcel rack and lighting system. allows you to comfortably tackle urban and extra-urban journeys.
REAR HUB MOTOR
The rear hub motor develops a power of 250W and a torque of 45 Nm at a weight of just over 3 kg. Its position leaves the frame clean and quite similar to that of a muscle bike.
LEVELS OF ASSISTANCE
The three levels of assistance allow you to manage the electric support in an optimal way, together with the Walk Assistance mode which allows you to have an easier start on uphill sections or with loaded bags.


MOTOR
The Rear HUB hub motor develops a power of 250W and a torque of 45 Nm at a low weight of just over 3 kg. Compact and versatile, it does not require any particular ordinary maintenance interventions.
BATTERY
BE16 is equipped with an integrated 468 Wh battery for a range of up to 80 km.
BE GREEN TECHNOLOGIES
28″ e-city aluminum frame with battery perfectly integrated into the down tube, with easy extraction using the special handle. The battery is rechargeable both when mounted on the bike and once removed. Parcel rack, mudguards and lighting system provide excellent standard equipment for all daily journeys. The rear hub motor ensures a smooth and reliable ride, perfect for reaching your daily destinations with an extra boost.
IDEAL FOR YOU
It is the pedal-assisted city bike ideal for urban routes, for daily journeys and for moving easily through city center traffic.
PERFECT FOR YOU IF
If you are looking for an agile vehicle to move around the city in style and with the safety of a comfortable and reliable vehicle, capable of taking you in any situation.
SIZE GUIDE
If you are looking for the size of your new bike that is best for you, click here and consult our size guide for information on the recommended frame for your measurements.
For any further information, do not hesitate to contact your local Bottecchia retailer.
FIND YOUR SIZE