BE24 CAMBRIDGE
E-TREKKING
Whether it's your daily commute, a family outing, cycling for some exercise, or simply enjoying the fun of two wheels, CAMBRIDGE is the ideal companion. Available in the two versions, MEN and WOMEN, it will accompany you on all your rides.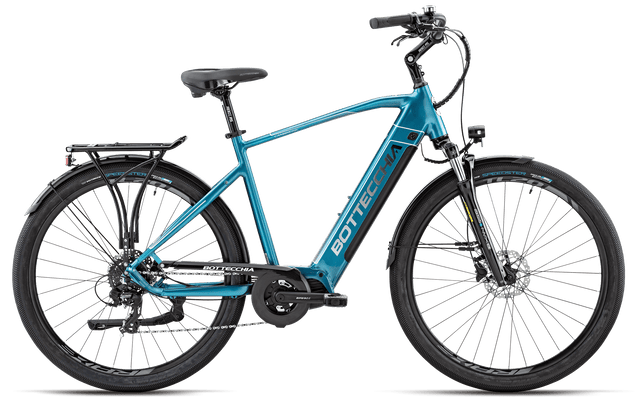 Setup

E-TRK 28" Shimano TX800 8s OLI 630Wh
FRAME: E-TRK 28" Alu Man Integrated battery
FORK: Suntour NVX DS preload adjuster
DERAILLEUR: Shimano TX800 8s
MOTOR: OLI ONE 58Nm 36V 250W chainwheel 38t
BATTERY: Green Way Li-Ion 36V 630Wh
CASSETTE: Shimano 11/34 8s
BRAKES: Shimano Disk MT 200
WHEELS: Alu 700 C double chamber
TIRES: Veetireco 28x2.30 Speedster
WEIGHT: 26,500 kg
Sizes

44 - 48 - 53
PERFORMANCE ACCESSORIES
CAMBRIDGE is equipped as standard with a lighting system with twilight sensor, mudguards, roof rack and 2.30 cm urban covers. Ready to accompany you on all your daily, urban and extra-urban journeys.
READY TO TAKE ON THE ROAD
CAMBRIDGE is equipped with an OLI SPORT ONE engine and an integrated 630 Wh battery for a range of up to 150 km. Versatile and reliable, it is ready to guide you on every outing.
TWO VERSIONS FOR MEN AND WOMEN
CAMBRIDGE allows you to share your passion with the person you love thanks to the two versions for men and women. Two frames designed for him and her, with HPG geometries for maximum riding comfort.
LEVELS OF ASSISTANCE AND AUTONOMY
Five power levels to optimally manage assistance,
guaranteeing exceptional performance to tackle any type of route.
MOTOR
OLI SPORT ONE is the version dedicated to trekking/urban use and develops a torque of 58Nm. Programmed for fluid and balanced support, it ensures all the necessary power with minimal effort, suitable for trekking and city use.
BATTERY
CAMBRIDGE is equipped with an integrated 630 Wh battery for a range of up to 135 km.
BE GREEN TECHNOLOGIES
Intuitive and fully equipped, CAMBRIDGE has a 28″ aluminum frame with fully integrated battery. The OLI SPORT engine in the ONE version has slightly reduced torque, but smoother and more balanced assistance, ideal for urban use. Coupled with the 630 Wh battery it ensures long-lasting fun up to 150 km.
IDEAL FOR
CAMBRIDGE is the high-performance pedal-assisted city bike, ideal for urban and city routes, for daily commutes from home to work and for trips out of town on light dirt roads.
PERFECT FOR YOU IF
If you are looking for a commuter for your daily rides, reliable and easy to handle, with a high autonomy for long-lasting fun.
SIZE GUIDE
If you are looking for the size of your new bike that is best for you, click here and consult our size guide for information on the recommended frame for your measurements.
For any further information, do not hesitate to contact your local Bottecchia retailer.
FIND YOUR SIZE