BE36 EVO ELEKTRON
FULL SUSPENDED E-MTB
EVO ELEKTRON is the aluminum e-full suspension designed for off-road lovers looking for comfort and fun. Equipped with a 250W OLI SPORT motor and integrated battery, this bike offers high performance with a range of up to 130 km.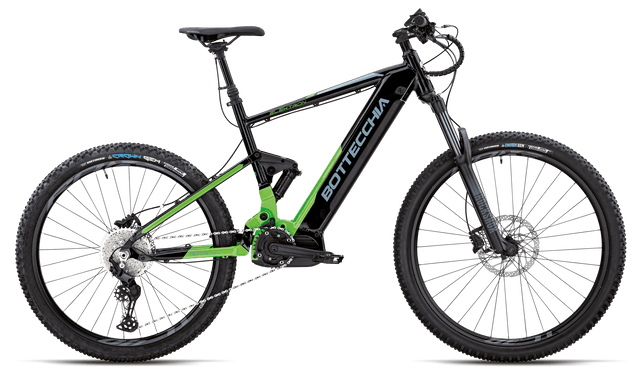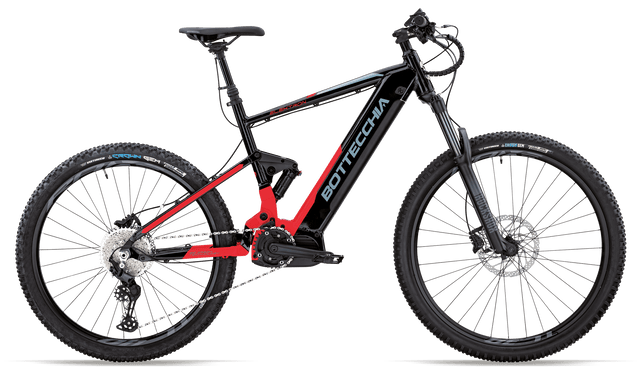 Setup
E-FULL 29"/27.5" Shimano Deore 11s / Sram NX 11s OLI 630 Wh
FRAME: E-FULL 29"/27.5" Alu thru axle travel 130 Integrated battery
FORK: Rock shox 29" 35 silver RL Boost 150nm
REAR SHOCK: Rock shox monarch RL
DERAILLEUR: Shimano Deore 11s/ Sram NX 11s
MOTOR: OLI Sport PLUS 85Nm 36V 250W chainwheel 32t
BATTERY: Green Way Li-Ion 36V 630Wh
CASSETTE: Shimano Deore 11/51 11s/Sram NX 11/42 11s
BRAKES: Shimano Disk MT 410
SEAT POST: Telescopic 30.9mm Tranz-x
WHEELS: Raxe TL30 Front/29" TL40 Rear/27.5", thru axle 15/12
TIRES: Vittoria/Veetireco MTB 29x2.30/27.5x2.60
WEIGHT: 26,000 kg
Sizes

44 - 48
ALL THE POWER YOU NEED
EVO ELEKTRON is equipped with an OLI SPORT PLUS engine. 85Nm torque and 250W of power to give you the maximum on every route. 5 intelligent assistance levels for optimal management of electrical support.
HIGH PERFORMANCE GEOMETRY
EVO ELEKTRON offers a comfortable and intuitive riding setup. The HPG geometries with 27.5" x 2.6 rear wheel and 29" x 2.30 front wheel allow you to maximize performance and get the most out of every route.
TWO SETUPS FOR DIFFERENT USES
Choose the perfect setup for your adventures. EVO ELEKTRON is available in two different versions: BE35 and BE36. The first, with Suntour 130 fork and Shimano Deore 10-speed gearbox, is designed for hiking and off-road cycling. The BE36, on the other hand, with Rock Shox suspension, 150 fork, telescopic seat post and 11-speed Shimano Deore gearbox allows you to tackle more demanding routes and is suitable for intensive use.
LEVELS OF ASSISTANCE AND AUTONOMY
Five power levels to best manage the support
guaranteeing exceptional performance to tackle any type of route.
MOTOR
Unlimited power with OLI SPORT PLUS which develops a torque of 85 Nm. This version expresses all the possible power for those who do not want to set limits. The assistance amazes from the first pedal stroke and adapts perfectly to any route, allowing the user to concentrate on driving while offering unimaginable sensations.
BATTERY
EVO ELEKTRON is equipped with an integrated 630 Wh battery for a range of up to 130 km.
BE GREEN TECHNOLOGIES
EVO ELEKTRON has a 27.5″ x 2.6 rear wheel and a 29″ x 2.30 front wheel. This setting allows you to have a precise and easy to handle front. At the same time a rear that offers more traction and grip. With the larger front wheel the rider can load the front axle with greater safety and achieve greater steering precision, overcoming obstacles more easily and reactively. The wider rear wheel, on the other hand, absorbs bumps on descents and increases grip on technical climbs. The 250W SPORT OLI motor with a maximum torque of 85 Nm has a great assistance capacity.
IDEAL FOR
The BE35 setup is perfect for hiking and off-road cycling. The high performance of the engine allows you to comfortably tackle long distances and easily overcome obstacles. BE36, on the other hand, thanks to its more sophisticated equipment, allows you to tackle more challenging routes. Suitable for intensive use, it allows you to easily overcome even the most adventurous routes thanks to the fork, air shock absorber and telescopic seat post.
PERFECT FOR YOU IF
If you are looking for a technical full-suspension MTB at the right price to have fun off-road without worries. Suitable for amateurs looking for adventure to tackle the most dynamic routes without sacrificing comfort.
SIZE GUIDE
If you are looking for the size of your new bike that is best for you, click here and consult our size guide for information on the recommended frame for your measurements.
For any further information, do not hesitate to contact your local Bottecchia retailer.
FIND YOUR SIZE