A new cycling experience.
To create our e-road bike we started from what we know best: the Reparto Corse. We have combined our frame tradition and racing bike experience with modern assistance system technologies to create a frame that combines perfectly with its electrical power system.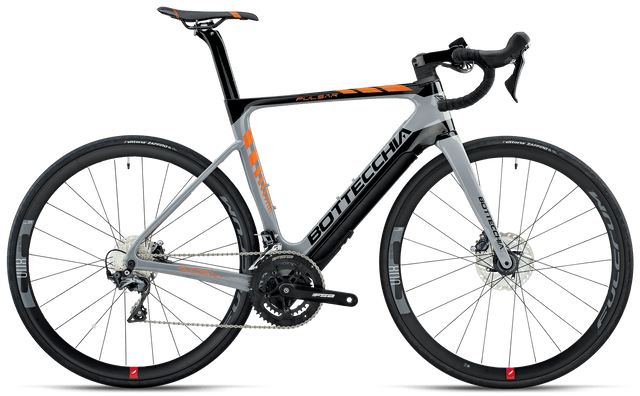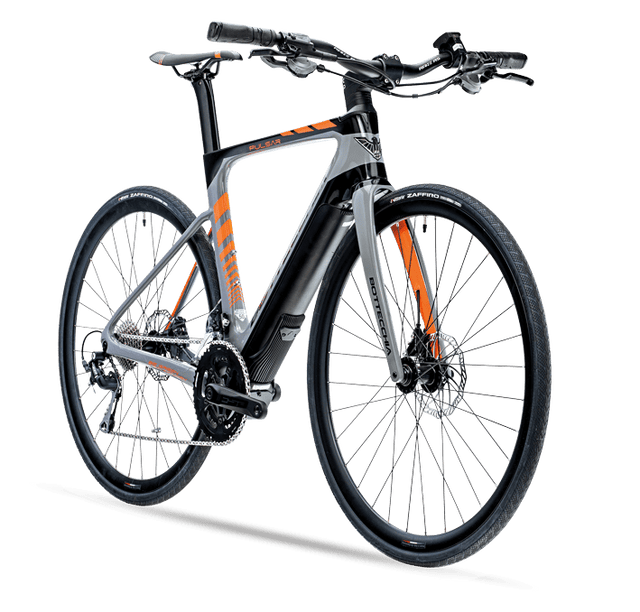 FRAME
E-Road CARBON thru axle integrated battery
FORK
CARBON monocoque UD-disc
DERAILLEUR
Shimano Ultegra Disk 11s
MOTOR
Fazua 36V 250W crankset 34-50d/chainwheel 34-50t
BATTERY
Fazua 36V 250Wh
CASSETTE
Shimano Ultegra 11/30 11s

BRAKES
Shimano Ultegra Disk

WHEELS
Fulcrum Racing 800 Disk

TIRES
Vittoria Sapphire 700x28
WEIGHT
14,000 kg

Equipment

E-ROAD Shimano Ultegra 22s DISK FAZUA

Sizes

47 - 50 - 53 - 55 - 58
INTEGRATED ASSISTANCE
With FAZUA's Evation guidance system, riders only get support when they really need it. So, every time you start a route or when you face uphill passages or when there are headwinds, the system provides support to the cyclist. The integrated 1.4 kg 250 Wh battery ensures a range of up to 55 km.
RUN SET UP
Carbon frame, seat post and stem. Shimano disc brakes. Vittoria Zaffiro covers 700×28. The perfect combination for a super performing road bike.
CROSS VERSION
Pulsar is also available in the CROSS version dedicated to leisure with sporty handlebars, Raxe wheels and Shimano 105 Disk gearbox for urban use.
IBRID TECHNOLOGY Electrical assistance, with discretion.
The motor block weighing only 1.92 kg can be added and removed with one click and allows you to quickly switch from a motorized bike to a classic bike at any time.
LEVELS OF ASSISTANCE AND AUTONOMY
Three levels of assistance for different situations/riding styles.
MOTOR
Intuitive assistance thanks to the 250W central motor with maximum torque of 60Nm. Perfectly integrated and easily removable, it weighs only 1.92 kg.
DRUMS
Fazua battery integrated on 1.4 kg down tube. 250Wh for a range of up to 55 km.
BE GREEN TECHNOLOGIES
Thanks to the fusion between the super-light Carbon Monocoque UD frame and Fazua's Evation guidance system, the rider only gets support when they really need it. Pulsar combines extreme riding pleasure with efficient and regular assistance, to tackle any type of route in different conditions. The almost invisible integration within the frame and the lightness of the assistance system leave the racing design and the aerodynamic and cycling characteristics of this extraordinary e-road bike unchanged.
IDEAL FOR
It's the perfect choice to enjoy road biking without thinking about the route. When facing uphill passages or when there are headwinds, the system offers the cyclist natural and fluid assistence. Suitable for road trips in complete comfort and safety, even over long distances.
PERFECT FOR YOU IF
You are looking for an intelligent e-bike that can give you support only when really necessary. Pulsar combines extreme driving pleasure with efficient and regular assistance to tackle any type of route in different conditions, but with discretion.
SIZE GUIDE
If you are looking for the size of your new bike that is best for you, click here and consult our size guide for information on the recommended frame for your measurements.
For any further information, do not hesitate to contact your local Bottecchia retailer.
FIND YOUR SIZE